~Welcome/ Intro/ Thanks!
~ Sponsors:
Audible
and
Bar-Maids
~ Sweater Forecast:
Mid 70s first part of the week, low 60 and rain for later part!
~Knitting/ Spinning:
The wedding shawl is DONE!!!!!!!!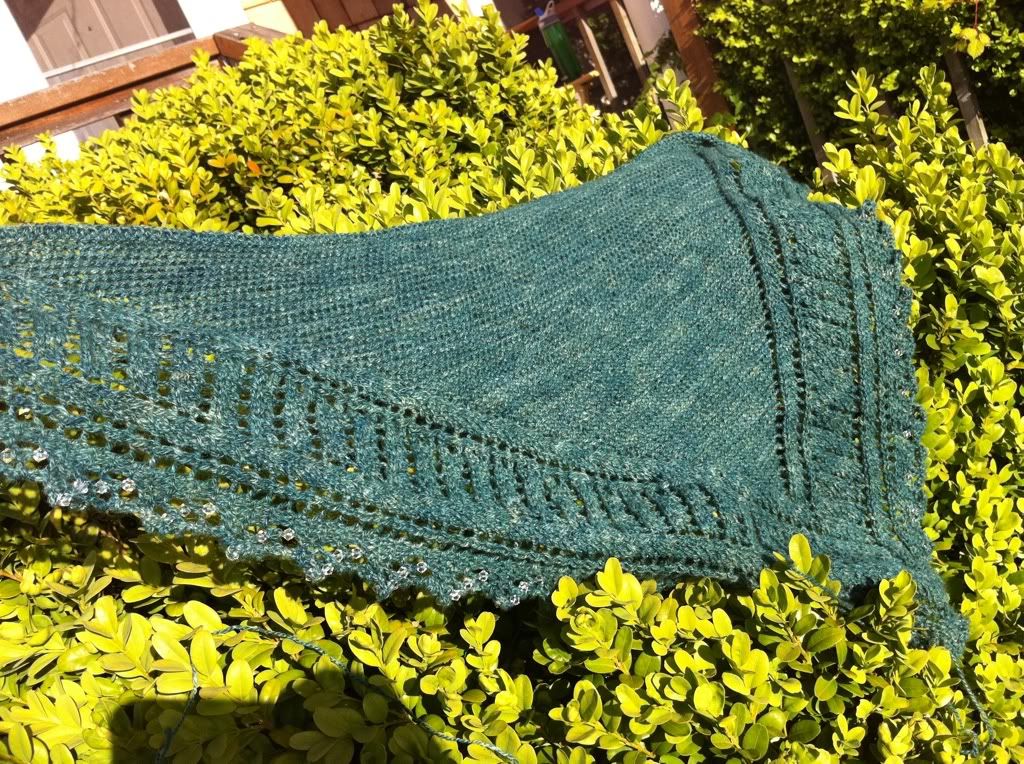 It is currently blocking!! OMG YAY! The BFF socks are coming along, and so has my Tour de Fleece spinning! (except for today) I've spun every day! And I've still got time today!! Finally, I will be casting on another Daybreak Shawl, this one for Amy! She is making one, and we are going to trade!
OMG I caged my tomatoes! YUM!
Knitpicks
is having their book sale! Books are 40% off!!!
Also,
JoAnn
has all their summer stuff (like lawn chairs, beach towels etc) on sale for 75% off! Summer has barely started and they are already selling it off!!
Bartering for my hairstyling for the wedding and haircuts for Aaron! My stylist is a new spinner and a knitter so I am trading fiber and spinning lessons!! Yay!
Mustard Trout
1 1/2 T whole grain mustard
2 T olive oil
1 T lemon juice
3 cloves garlic, pressed or minced
4 fresh basil leaves, shredded
salt and pepper to taste
mix the ingredients, then use to marinate some fish. I used 2 filets about the size of the palm of my hand each. Cover with plastic wrap and let sit for 20 mins. Wrap in foil topped with an onion slice, cook over bbq for 10 mins (skin side down) and serve with rice and salad with honey mustard dressing! YUM! Sauce would also be tasty on chicken or mushrooms!
$3.00, 12 pages, all hand written and illustrated! Once again, this is amazingly beautiful and really full of useful information! A total of 8 recipes (2 basic with 6 add ons), all the processes and safety info you need and step by step instructions! For $3, you really can't beat it! Totally worth it!
~Contact Info:
Email: cleverroue (at) gmail (dot) com
Ravelry: Roue
Twitter: Roue0824
Leave a donation or an iTunes review!