Listen Here!!
~Welcome/ Intro/ Thanks!
~Sponsors:
-Audible: The internet's leading provider in spoken word entertainment! Download a free audiobook of your choice by
following the link!
-
Bar-Maids
: The most amazing eco-friendly skin care products!!
~Contest:
Autumn tools! Check out the
Ravelry group
page to vote on your favorite!
~Sweater Forecast:
If you are in my neck of the woods this week, you get to experience ALL THE WEATHER! Sun, rain, clouds, temps in the low 40s up to the high 70s! LAYERS ARE AWESOME!
~ Knitting/ Spinning:
Finished the
Fake Isle hat
that I started for my friend, I finished knitting the Megaman hat for my other friend's son, and ripped out the
198 yds of Heaven
shawl because it was too involved for my brain at the time. Instead, I CO the
Age of Brass and Steam
shawl, and knit the whole thing in a week! (that's a big deal!) I also finished Aaron's socks! I'm a KNITTING MACHINE!
As for spinning, if you
follow me on Twitter
then you already know that I got my new spinning wheel! Her name is Louise, named for her previous owner and she and I are getting along VERY WELL!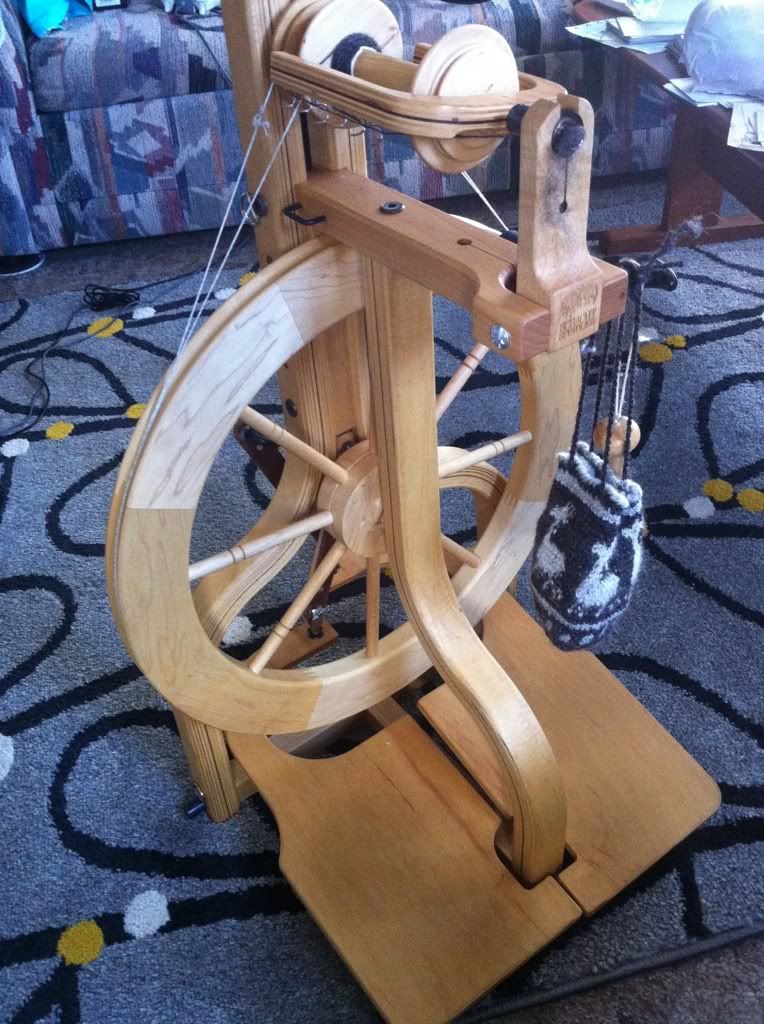 We have already spun together 4oz of
Sunset Fibers
BFL in the colorway Serendipity, into sportish weight singles that I am currently knitting into the
Boneyard Shawl
. We are also now spinning together some
Woolgatherings
70/30 BFL/Seacell in the colorway (named by Amy Toadyjoe and I) Kreplit Rainbow. (If you are unfamiliar with the term kreplit or the kreplit theory, please refer to episode 7 of the
Outlier Podcast
. Amy does a good job explaining it.)
~Sustainable Knowledge! New Segment!
I'm back in school! I'm studying sustainable agriculture, so I've decided that each episode, I'll share a little tidbit about what I've learned that week! Did you know that it takes 55x more water to grow 500 calories of edible beef than it does to grow 500 calories of edible potatoes? Interesting right?
Thursday night I jumped on a Greyhound bus and went to Idaho! I got to Amy's house at about 10am Friday morning, and when she got done with work, we jumped in her car and drove across Oregon! We landed in Gresham at the
KnitWits
house around 7pm on Friday, where we had some snacks, drank wine on the porch with the chickens in the yard, and the kids running around, laughing and having a great time! It was all VERY idyllic! We drove down to Rimky Korsakoffeehouse for desserts and it was excellent! Saturday, we went to the festival after the delicious quiche breakfast that Carin made, had the meet at greet at the Bar Maids booth and then wandered around for a while! We did some shopping, some eating, some laying around in the sun knitting and spinning and just having a good time together! Then we went to
Dar Essalam
which is the best restaurant I've ever been to. That's all. Go there. Eat. You'll love it. Sunday, we packed up and went home! I don't feel like I got to spend nearly enough time with my friends, but I am glad I got to spend some! Can't wait to see you all again soon!
-
Knitpicks
is having their book sale again! All their books are 40% off! A great time to stock up!
-Office supply stores are practically GIVING AWAY school supplies! Since it's been a while since school started, they are ALL ON SALE!
Don't forget your public library! You can now download kindle books, ebooks, audiobooks and then of course go get traditional books! Just another way that libraries are a limitless resource for you!
Knitting Mochimochi by Anna Hrachovec
20 projects, retail price is $19.99! EVERYTHING is adorable! I love this book! I don't normally knit toys but I want to knit ALL THE THINGS in this book! The technical descriptions of knitting techniques are well done, the design your own toy workshop is great and the patterns are all awesome!!! If you have any interest in cute things or knitted toys, this book is totally WORTH IT!
~Contact Me!
Email: cleverroue (at) gmail (dot) com
Ravelry: Roue
Twitter: Roue0824
Please leave a review on iTunes!